Do you work in an Essential Business?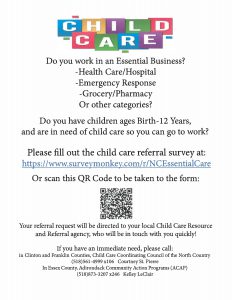 – Health Care/Hospital
– Emergency Response
– Grocery/Pharmacy Or other categories?
Do you have children ages Birth-12 Years, and are in need of child care so you can go to work?
Please fill out the child care referral survey at: https://www.surveymonkey.com/r/NCEssentialCare
Your referral request will be directed to your local Child Care Resource
and Referral agency, who will be in touch with you quickly!
If you have an immediate need, please call:
In Clinton and Franklin Counties, Child Care Coordinating Council of the North Country
(518)561-4999 x106 Courtney St. Pierre
In Essex County, Adirondack Community Action Programs (ACAP)
(518)873-3207 x246 Kelley LeClair
Please click here to view as a PDF document (will open in a new tab).